Do you love snacking but want to lose weight as well? Fret not, when you have the choice to get healthy snacks for weight loss that are delicious and curb your temptation. Wholesome foods can keep your hunger pangs away, making you less inclined to indulge in unhealthy snacks.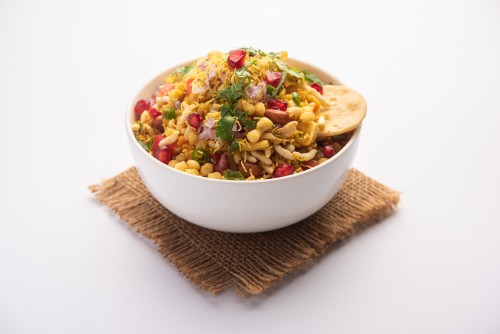 Healthy munchies can quell your cravings while keeping you away from processed foods and sugary drinks like sodas and canned juice. The only catch is reaching for the right snacks that keep you full while aiding in weight loss. What's the main idea of snacking? Some people snack to get energy and stay full until the next meal, while others snack to keep their cravings away. Anju Singh, Diet and Nutrition Consultant suggests, "Adding a quality and healthy snack rich in fiber and protein would be the best option to snack between meals."
What Are Some Healthy Snack Recipes for Weight Loss?
If you are looking for some savory and sweet healthy snacks for weight loss, check out these healthy recipes suggested by our health experts. These are easy to prepare and you can easily incorporate them into your daily routine. Try these snack recipes for weight loss!
1. Roasted Chickpeas
Including legumes in your everyday diet helps reduce weight. Chickpeas are a great source of protein, and incorporating roasted chickpeas into your snacks would be a healthy option for weight loss. Chickpeas need not be boring. Roast chickpeas in olive oil and add a pinch of salt, black pepper powder, and cumin powder. Savor this crunchy and healthy snack. Store it in a jar and munch on it whenever you crave snacks.
2. Cucumber and Hummus
Hummus is yet another form of chickpea! But, who doesn't love Hummus? Don't you think hummus and cucumbers or carrots make the best pair as a healthy snack? Hummus and cucumbers provide you with protein and fibre. According to the research, raw veggies lower your waist circumference and aid in a loss of inches. Try this healthy recipe!
3. Greek Yogurt with Berries
Greek Yogurt is packed with vital nutrients like probiotics and protein, which help you shed those extra pounds. Greek yogurt with berries is a great high-protein and fiber-rich snack that keeps you full while providing you with fresh flavors. Pair Greek yogurt with your favorite fruits and enjoy the sweetness and tanginess of fruits with Greek yogurt.
4. Makhana (Fox Nuts) Chaat
Fox nuts are a great source of calcium, and including these in your everyday diet would provide you with numerous health benefits. Roast fox nuts and add some salt and black pepper powder. Eat this as your healthy snack! This sounds boring, right? So, let's make an interesting and healthy recipe for weight loss. Chop onions, tomatoes, green chilies, and cucumber. Add these veggies to the roasted makhana and add salt, chili powder, and lemon. Mix it well and enjoy!
5. Bhel Puri
Bhel is one of the healthiest snacks when you make it the right way with the right ingredients. Bhel Puri, being street food, is often considered unhealthy, but when you make it at home, avoid ingredients like sev and fried puris and include ingredients like onions, tomatoes, cucumbers, green chilies, sprouts, herbs, and spices. It makes a delicious and healthy snack. Puffed rice is gluten-free with a low glycemic index and, hence, makes an ideal snack. But people with high blood sugar must watch out! Veggies like onions, tomatoes, green chilies, and cucumbers provide you with fiber and vitamins. Herbs and spices like cumin powder are good in the summer as they act as cooling agents for your body. Get a healthy and delicious Bhel puri recipe here.
6. Boiled Eggs
Eggs are packed with protein; hence, having boiled eggs as a snack keeps you satiated for a longer duration. Boiled eggs also provide you with nutrients like Vitamin B-12, Vitamin D, and selenium. You can pair boiled eggs with a source of fiber, to make it a complete healthyu snack. This will also reduce your intake of dinner; hence, you consume fewer calories.
7. Paneer Salad
Salad might sound boring, right? But there are many ways in which you can make them interesting with some herbs, spices, and nutritious ingredients. Paneer salad is quick and easy to prepare and is rich in protein and fiber which helps to reduce weight along with detoxification. Everyone can enjoy this nutritious salad and the best part is that you can have it in your breakfast as well. Saute onions, capsicum, carrots, and green chilies in olive oil. Add these veggies to diced paneer. Add salt, pepper, oregano, and chili flakes. Relish it as your healthy snack or breakfast.
8. Baked Khakhra
Khakhra is a baked Indian traditional snack made from whole wheat flour and spices. These are roasted over a pan until crispy. Including Khakhra in your diet routine would not only keep your hunger pangs away but curb your cravings as well. There are a variety of khakhras available in stores and online. For those who are looking for gluten-free Khakhra, variety of gluten-free khakhra is available online and in-store. If you are looking for a recipe for Khakhra to make at home, try the following: Knead a soft dough of whole wheat flour, salt, chili powder, olive oil, and carom seeds. Let the dough rest for an hour. Divide the dough into equal-sized balls and flatten the dough balls. Khakhra is very thin, so make sure, you roll it out with a thin layer of roti. Place it on a hot pan and roast it until crispy on both sides. You can add more herbs and spices like oregano, chili flakes, basil, garlic, Pani puri masala, Pav bhaji masala, etc.
9. Roasted Chana
Roasted chana is one of the best sources of protein and fiber which ultimately makes it an ideal healthy snack option. Roasted Black Chana helps reduce the calorie intake throughout the day as it keeps your stomach full. Thus, including roasted chana in your diet would be helpful in your weight loss journey.
10.Choco Oats Pudding
On a weight loss journey and craving some dessert? Don't worry, we have got some delicious and healthy desserts for your sweet tooth. Choco Oats Pudding! This dish is prepared without sugar or jaggery. Try this recipe. No need to crave anymore! These healthy snacks are great for weight loss plus provide you with additional health benefits as well. If you are someone who obsessively buys processed foods for snacks to munch on, it's high-time, you switch to these healthy snack options. These weight-loss-friendly snacks would help you cut down your daily calorie count plus curb your cravings as well. It's time to create healthier lives!